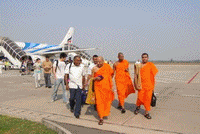 In 19-21 March 2010 the Most Venerable Sangharaja of Malwatta Chapter made a religious visit to Siam Reap of Cambodia as the special guest of MCU. During his visit to Siam Reap, the Most Venerable visited Angkor Thong, Angkor Wat, Thalesam and Prasad Bundaisri at Sian Reap.
Also the Most Venerable visited Wat Preach Inthakosy Temple at Siam Reap. The Celestial Governor of Sian Reap Province, both monks and novices of the temple and 50 lay devotees welcomed the Most Venerable Sangharaja at the temple. The secretary to the Governor Monk, Phramaha Theet also assisted and informed to the Sanghara regarding the Buddhism in Siam Reap and did the blessing chanting for the Most Venerable Sangharaja.
The Director of BRI, Phrakrupalad Suwatthanavachirakhun and former student of MCU, MR. Suwan assisted with coordinating his visit. Mr. Sakchai & Mrs. Sudawan Techakaisri provided their sponsorship for whole visit of the Most Venerable Sangharaja to Siam Reap.