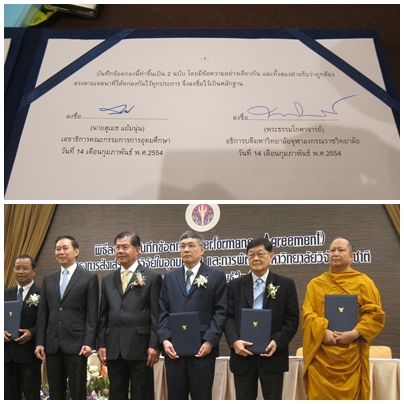 On 14th February 2554/2011, the Most Ven. Prof. Dr. Phra Dhramakosajarn, the Rector of the Mahachulalongkornrajaviayalaya University and Mr. Sumate Yaem Nown, Secretary of the Higher Education Commission, signed the memorandum of agreement of the promotion of research for the research budget in 2554/2011 at the Siam City Hotel, Bangkok.
Phrakhrupalad Suvathanavachirakhu (Sawai Chotiko), Acting Director of the Buddhist Research Institute, MCU, and Phramaha Suthep Supantito, Assistant to Deputy Rector for Foreign Affairs, attend in signing of memorandum agreement.
Mr. Chaiyos Jira, Deputy Minister of Education, was the chairman of the signing of memorandum and more then seventy of the government officers were also attending.