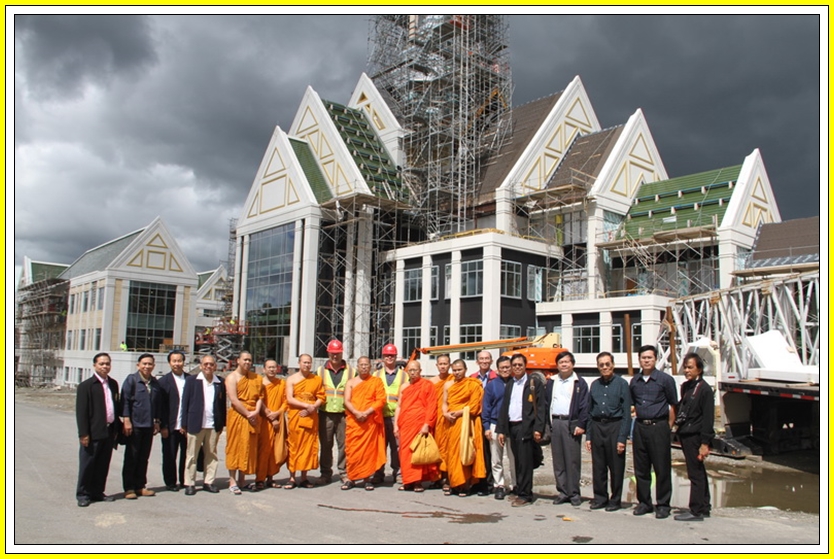 On 12 June, 2556/2013, Phrakhrupalad Suvathanavachirakhun (Sawai Chotiko), Vice Rector for Foreign Affairs and along with the Thai delegations took the sightseeing Wat Nawamintararachutis, which is about a half hour south of Boston, Massachusetts, USA.
It is one of only a handful of Thai Buddhist temples in the United States with actual Thai Buddhist monks in residence. Constructed on 35 acres (140,000 m) previously occupied by a farm, it opened its doors to the public in June 2006. The ground breaking ceremony for the temple took place on May 5–6, 2011. The temple is projected to be completed and open for practice by December 2014.
The temple is the under the version of Long Phor Phra Bromvajirayarn, a member of Thai Sangha council in Thailand. The temple was named Wat Nawamin in honour of King Rama IX of Thailand, who was born on December 5, 1927 near Boston, in Cambridge, Massachusetts, USA (at the Mount Auburn Hospital). At the time, the king's father lived in Brookline, Massachusetts and was a medical student at Harvard Medical School, one of the top medical schools in the world.
While they were at the temple, they attended the meeting, sightseeing around the temple such as high ordination hall, the project of classroom building. They also participated the chanting ceremony for the blessing of the Buddha statue which will be enshrined to the high ordination hall at the temple.