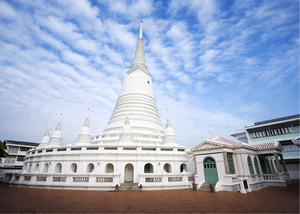 The restoration of the principal chedi (reliquary stupa) in Wat Prayurawongsawas Worawihan temple in Bangkok, Thailand has been honoured with the Award of Excellence in the 2013 UNESCO Asia-Pacific Heritage Awards for Cultural Heritage Conservation. The award recognizes the work undertaken on the Phra Borommathat Maha Chedi and the attached hall, Pharin Pariyattithammasala, for its technical achievement and for the outstanding social impact sparked by the conservation project.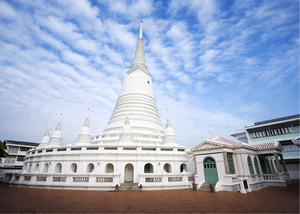 In June this year a panel of international conservation experts was convened to review and deliberate on the 47 entries received from 16 countries across the Asia-Pacific region. "We were particularly encouraged to see our broadest ever geographical range this year, spanning from the Cook Islands in the Eastern Pacific Ocean to the Islamic Republic of Iran at the far end of West Asia", comments Tim Curtis, Chair of the Jury and Chief of the Culture Unit, UNESCO Bangkok.
Other awardees include:
Awards of Distinction:
The Great Serai, Kabul, Afghanistan

Lal Chimney Compound, Mumbai, India

Khaplu Palace, Baltistan, Pakistan
Awards of Merit:
Maryborough Railway Station, Victoria, Australia

Enjoying Snow Yard, Beijing, China

Tai O Heritage Hotel, Hong Kong SAR, China

Royal Bombay Yacht Club Residential Chambers, Mumbai, India

Otaki Town Hall, Chiba Prefecture, Japan

Historic Buildings in Duong Lam Village, Son Tay, Hanoi, Viet Nam
Honourable Mentions:
Sail Maker's Shed, Broome, Western Australia, Australia

Lost Bomb Shelter of the Sofitel Legend Metropole Hanoi, Viet Nam
The UNESCO Asia-Pacific Awards for Cultural Heritage Conservation programme recognizes the efforts of private individuals and organizations that have successfully restored and conserved structures and buildings of heritage value in the region. By recognizing private efforts to restore and adapt historic properties the awards aim to encourage other property owners to undertake conservation projects within their communities, either independently or by seeking public-private partnerships.
The winners were selected based on how the projects reflected a clear understanding and application of various criteria, such as the articulation of the spirit of place, technical achievement, appropriate use or adaption, and the project's contribution to the surrounding environment and the local community's cultural and historical continuity.
Eligible projects must be more than 50 years old and the restoration must have been completed within the past 10 years. Buildings with a new use must have also been in viable use for at least one year from the date of the awards announcement.
Further information about the UNESCO Asia-Pacific Heritage Awards for Cultural Heritage Conservation and this year's winning entries can be found at: www.unescobkk.org/culture/heritageawards
The call for entries for the 2014 UNESCO Heritage Awards shall be made in October 2013. Further details will be available on the awards website: www.unescobkk.org/culture/wh/asia-pacific-heritage-awards
To download the full Press Release including project profiles, please CLICK.
_________________________
Media contact:
Akane Nozaki
Information and Knowledge Management
UNESCO Bangkok
Tel : (66 2) 391-0577 Ext. 190
Fax: (66 2) 391-0866
Email: ikm.bgk@unesco.org
ที่มา: http://www.unescobkk.org/