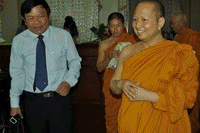 On April 23rd, 2010/2553 at 9.00 o'clock .
The Director of BRI, MCU,
Phrakrupalad Suwathanavachirakun(Savai) has attended the 2nd/2510 of the director of the Public University Conference at meeting room,4th floor of the Rector Building, MCU, Ayuttaya who was organizer.
Rector of
Walailak
University
, Assistant Prof. Dr. Thai Dipasuvarnakul was a chairman. The Rector of MCU, Phradhammakosajarn was a council of this meeting welcomed and introduced activities of the World Vesak.

In this meeting which was attended the
director of the Public University
and the representatives about 13 universities the Director of BRI gave the 2nd of a result of international research
seminar to the rector of any university.