On 4 August 2553/2010, the Vice-Rector for Foreign Affairs, Acting Director of the Buddhist Research Institute of MCU, and Assistant Abbot of Wat Arunrajavararam, Phrakhrupalad Suvathanavachirakhun (Sawai Chotiko), Phrakhrupalad Suvathanaphromkhun, Phramaha Suthep Supandito (Assistant to the Rector for Foreign Affairs) and Researchers from MCU: Mr. Mr. Sanit Chai Wong Kot, Assoc. Dr. Panuwat Suriyachat and researchers in Japan had joined the Tendai school training course, which is conducted at Einyaku Temple, Hi Ei Mountain, Ozu City, Shinga Province, Japan.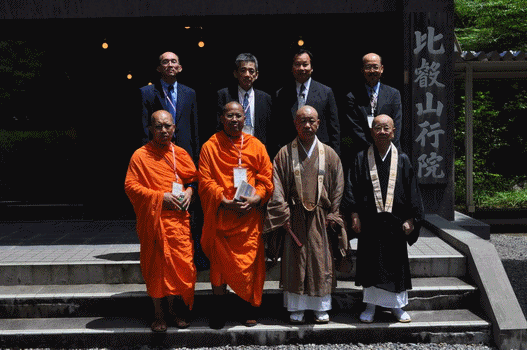 The TendaiSchool training course is conducted three times for two months. During the training course, the trainers are not allowed to leave the school. And the trainers can follow the training course 1,000 days for 4 years or 12 years depends on the individual.
On this occasion, the Most Ven. Dr. Kakusan Anami, Executive Committee of the Tendai Buddhist Sect, the Abbot of Phichamon Temple, Kyoto, also participated.